10 Design Trends for Your Thanksgiving Table
Posted by Zachary Baker on Thursday, November 10, 2022 at 2:53:16 PM
By Zachary Baker / November 10, 2022
Comment
Anyone that knows me, knows that I have some MAJOR OCD. Couple that with the pressure of hosting Thanksgiving for the second year in a row and, well, this time of year can feel a bit overwhelming. I know I put too much pressure on myself however, there is a certain sense of accomplishment once the table setting is just so!
Though I will definitely roll over a lot of last year's decor into this year, I do want to incorporate some of the current trends as well. If you're like me, many of these design trends are already incorporated into my everyday decor making my life SO much easier! Scroll on for 10 of my favorite trends for 2022
1.) Accent Pieces in Gold Tones - My personal FAVORITE
Gold tones. Love it or hate it, incorporating gold tones into everyday decor has been a leading trend in the interior design world for a couple of years now. I'm proud to say, this is a trend that I never let go of.
When done correctly, incorporating gold tones can totally transform a space. Chic, elegant, and even masculine, gold tones - specifically brushed brass - are a staple in my house and my holiday decor. I love what Lauren Saylor did with her table setting; using a non-traditional color pallet with moodier hues and incorporating fall accent colors including a pop of gold to create a perfectly balanced table setting.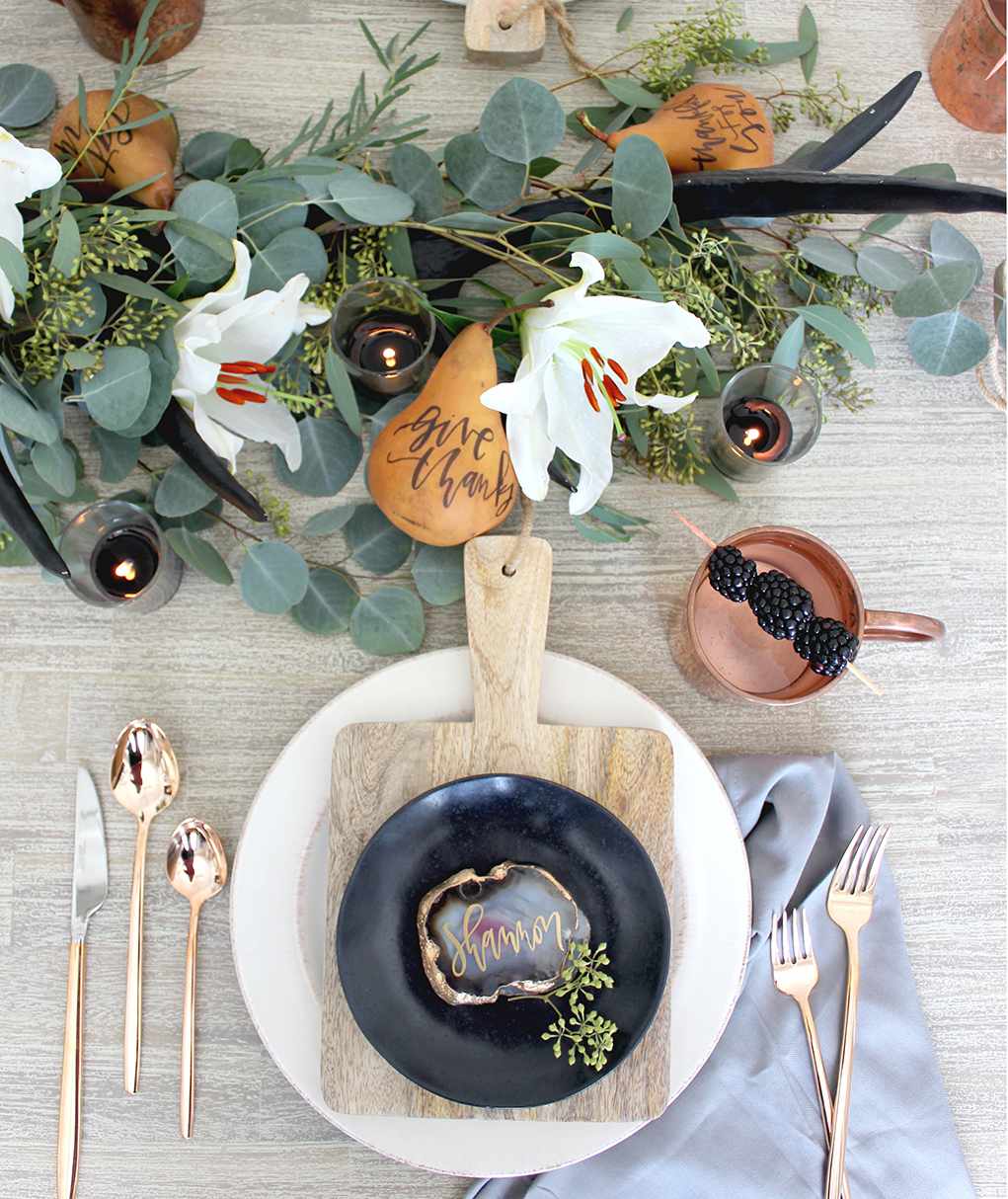 2.) Dried Flowers
Modern, relaxed, and budget-friendly. Dried flowers are the perfect addition to any Thanksgiving setting. For most of us, dried flowers are already incorporated into our everyday decor. I love the way Catalyst Creative Society incorporated not only dried flowers but also dried leaves and other foliage to create this elegant and masculine Thanksgiving table setting.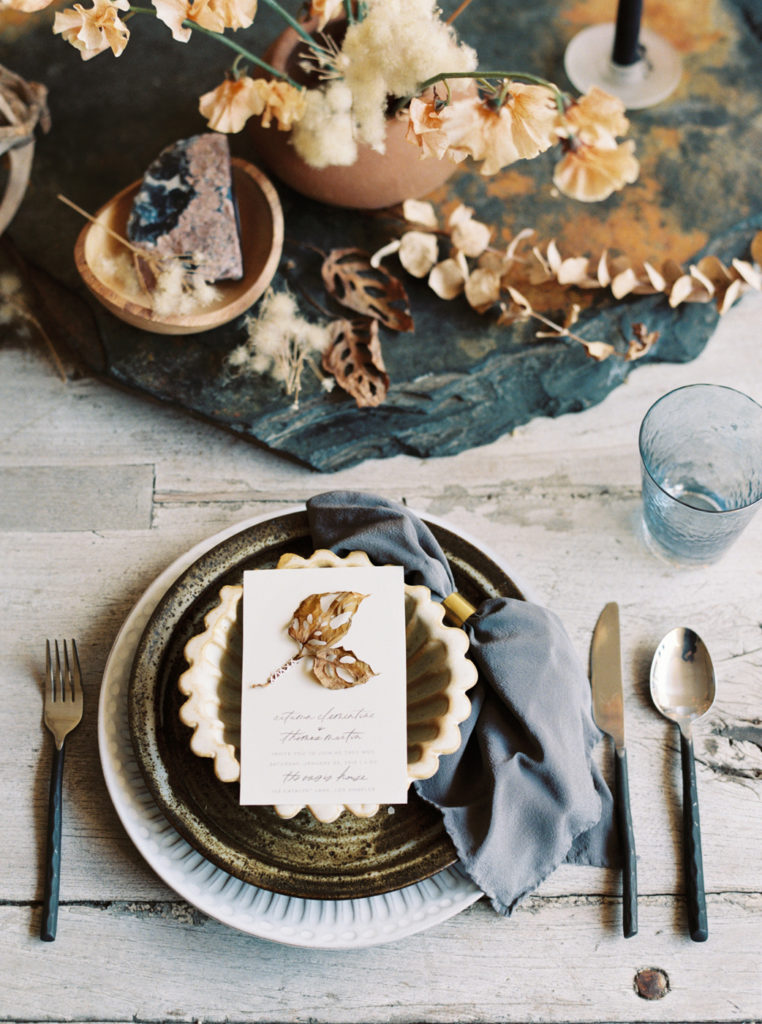 3.) Candlelight Without the Flame
Last year, I opted for a dozen tealight candles that I put in these "cute" mason jars…which I nearly got my hand stuck in after lighting each one just to have them burn out five minutes later. SO, this year I'll be using these Flameless Candles in Glass Vessels from Pottery Barn. "Perfectly worry-free. Sitting in an elegantly simple, clear glass vessel, the flickering wick of this flameless candle looks just like the real thing and warms any room with a romantic light. Set it on a timer and let it glow." Yeah, I'm OBSESSED.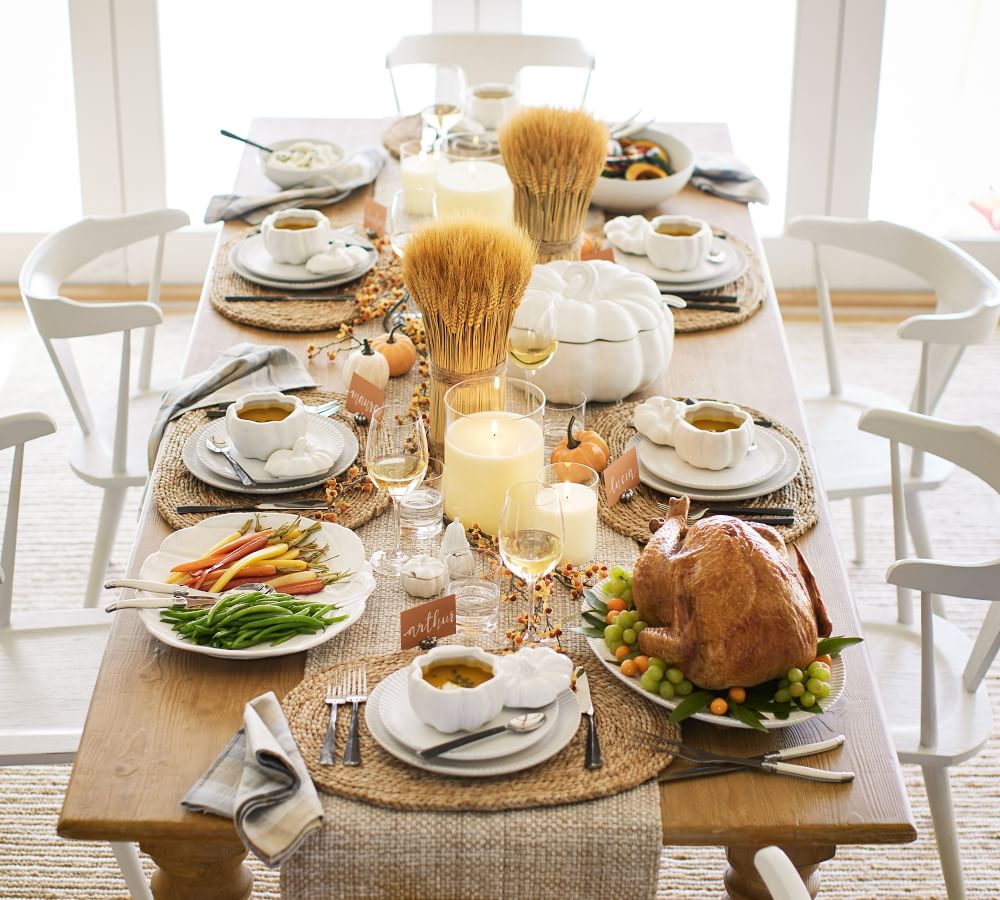 4.) Handcrafted Ceramics
Handcrafted ceramics are majorly on-trend right now. Though this trend has had to grow on me, there is a certain warmth and rusticity that I have come to appreciate. Whether you opt for terra cotta pitchers and vases or modern farmhouse-inspired plates like my favorite Cayon Dinner Plates from Casa Zuma, handcrafted ceramics can create a total vibe and set the stage for the supporting decor.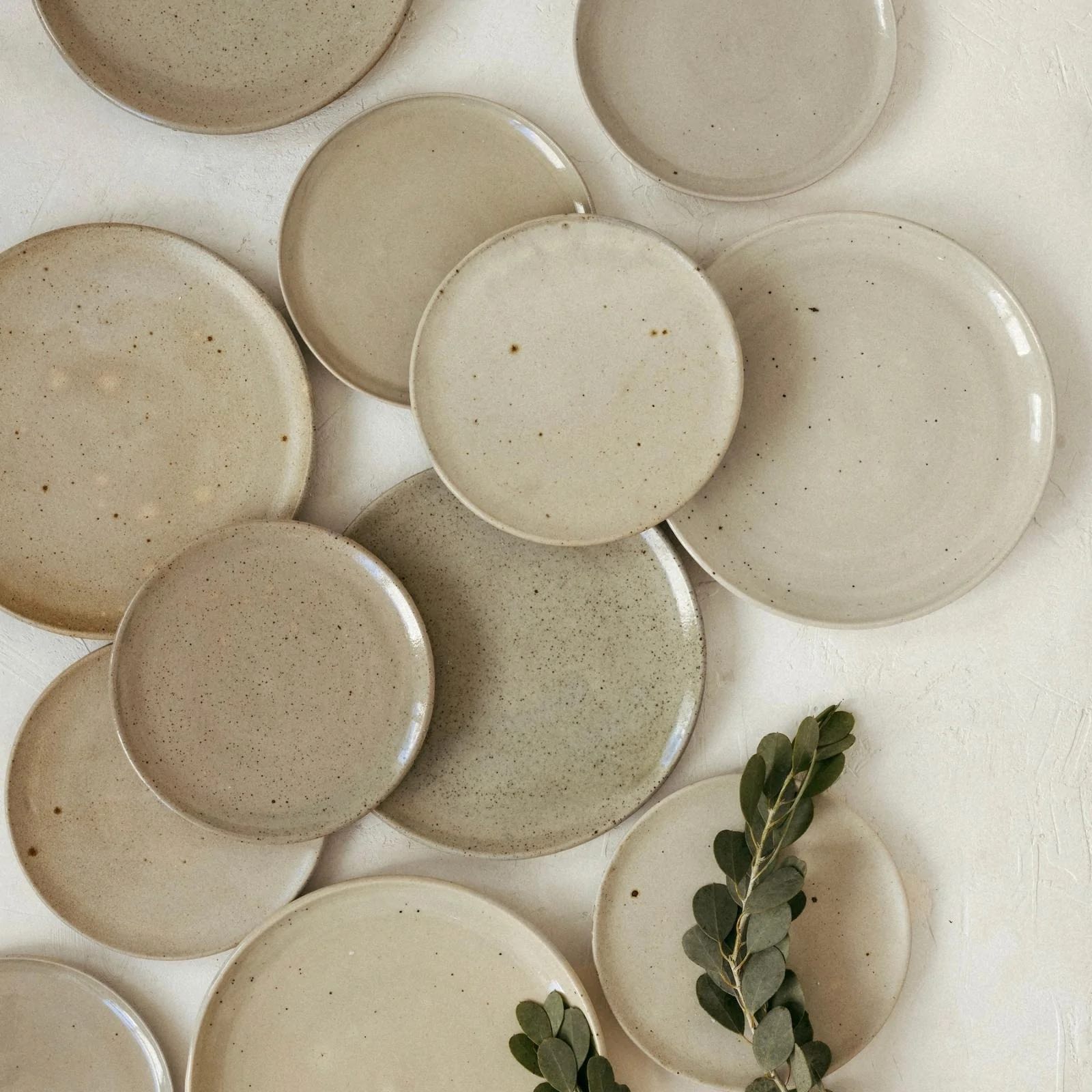 5.) Mismatched Ceramics
This goes hand in hand with the previous trend. Handmade ceramic dinnerware is especially unique as no two pieces are exactly the same. When paired together, the variations found from piece to piece add depth and texture to even the most pared-down table. Mix in some basic glasses and flatware like Food52 did with their table setting and you're ready to go!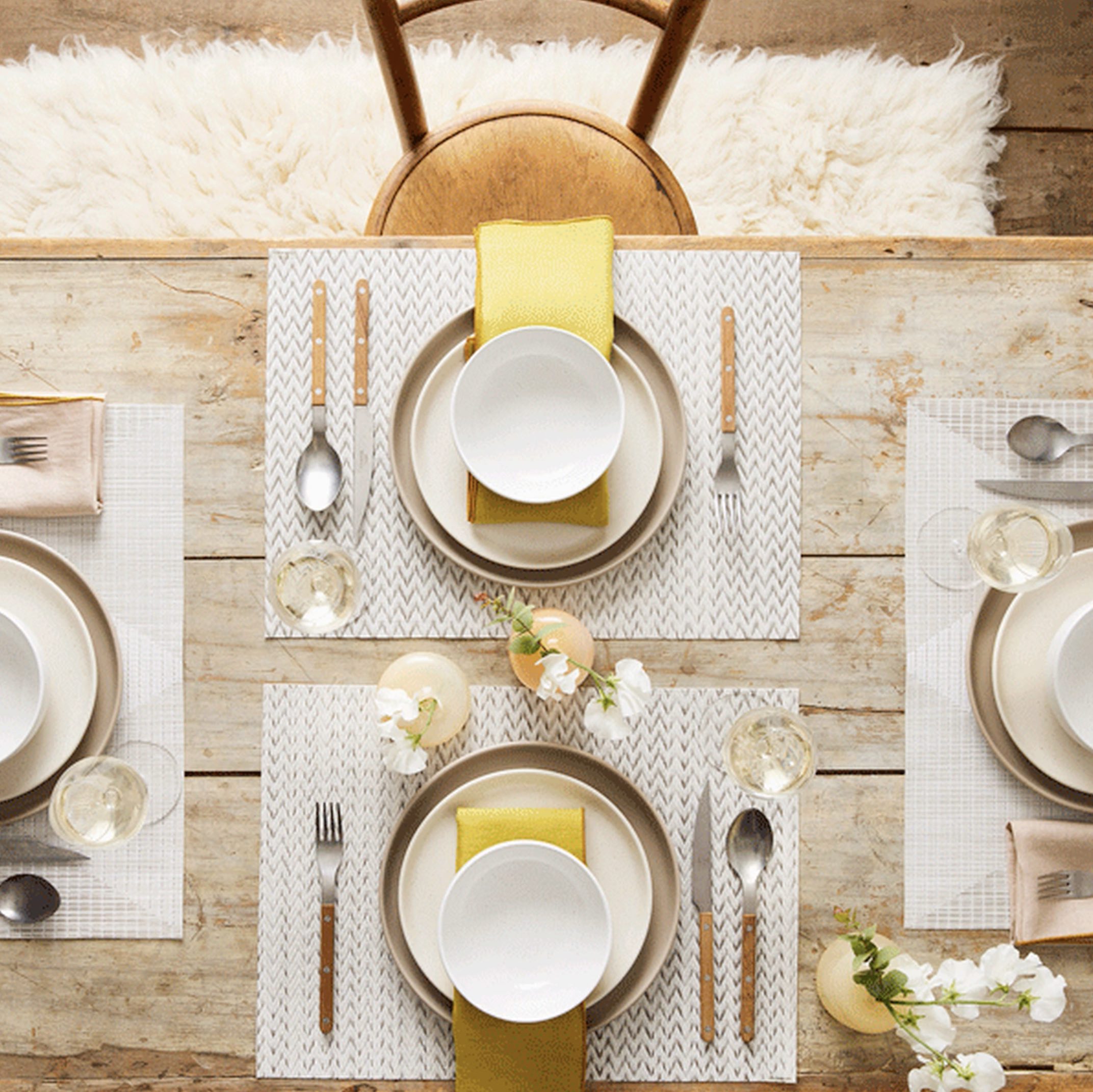 6.) Linen, On Linen, On Linen
Growing up, there was nothing I hated more than a tablecloth and table runner. I gave (and still do) my mom ABSOLUTE HECK about what seemed to be her obsession with tablecloths and table runners. *Mom, if you're reading this, I still feel the same way…with one exception… holiday table settings.*
Casual linens are the "it" thing right now and are often times used as table cloths or table runners to get the best set table. Throw in a casually pulled fringed linen napkin with a wheat napkin ring like the ones found at Pottery Barn for an expensive yet relaxed aesthetic.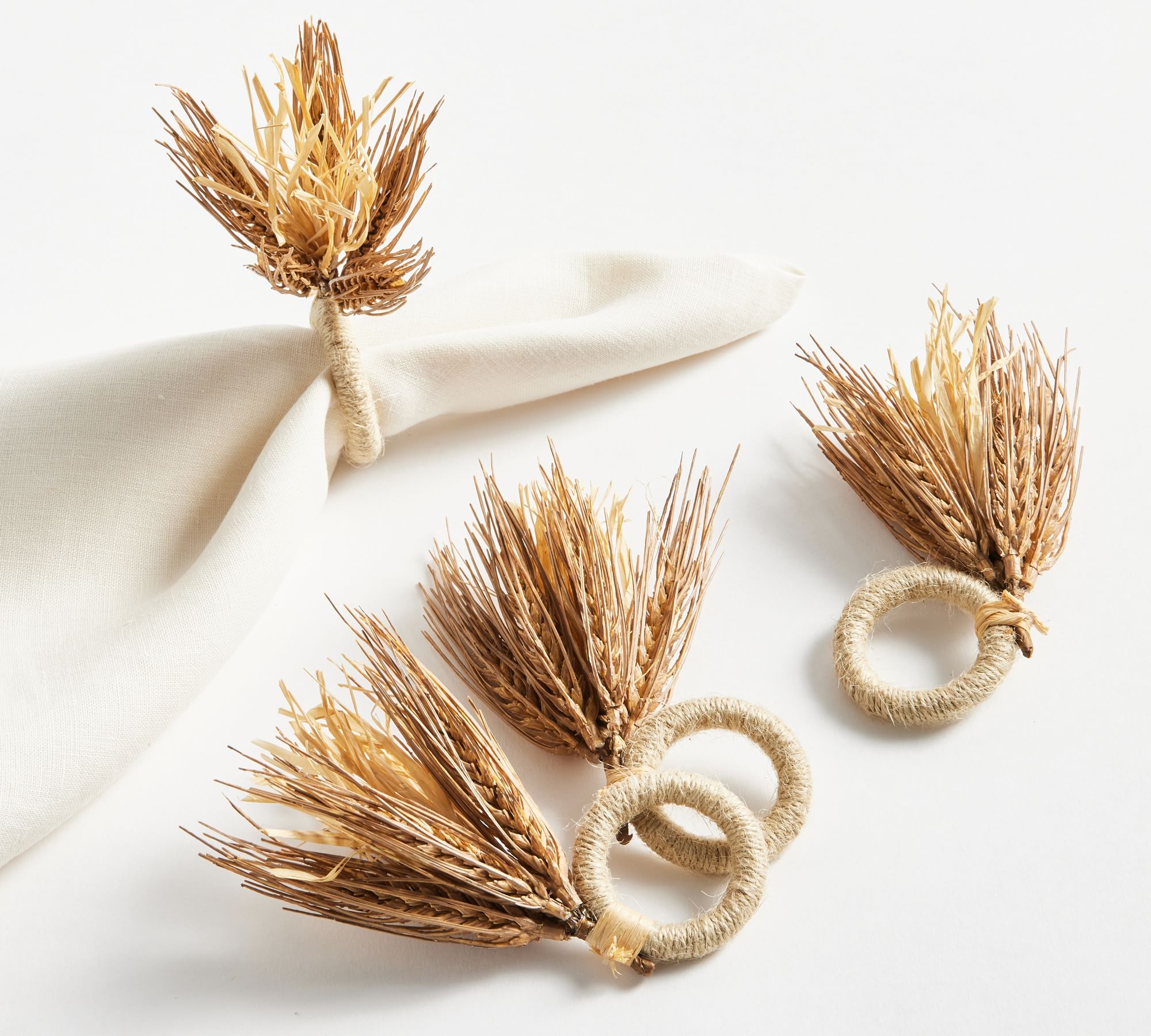 7.) Au Naturale
Raw wood, earthy tones, organic stoneware, relaxed linens. Stay on trend while creating a welcoming setting with these four "au naturale" elements. Even if these elements are not the star of the table, incorporate them with wood serving pieces, earthy orange glassware, and knotted linens like those showcased in RPLinen's Etsy store.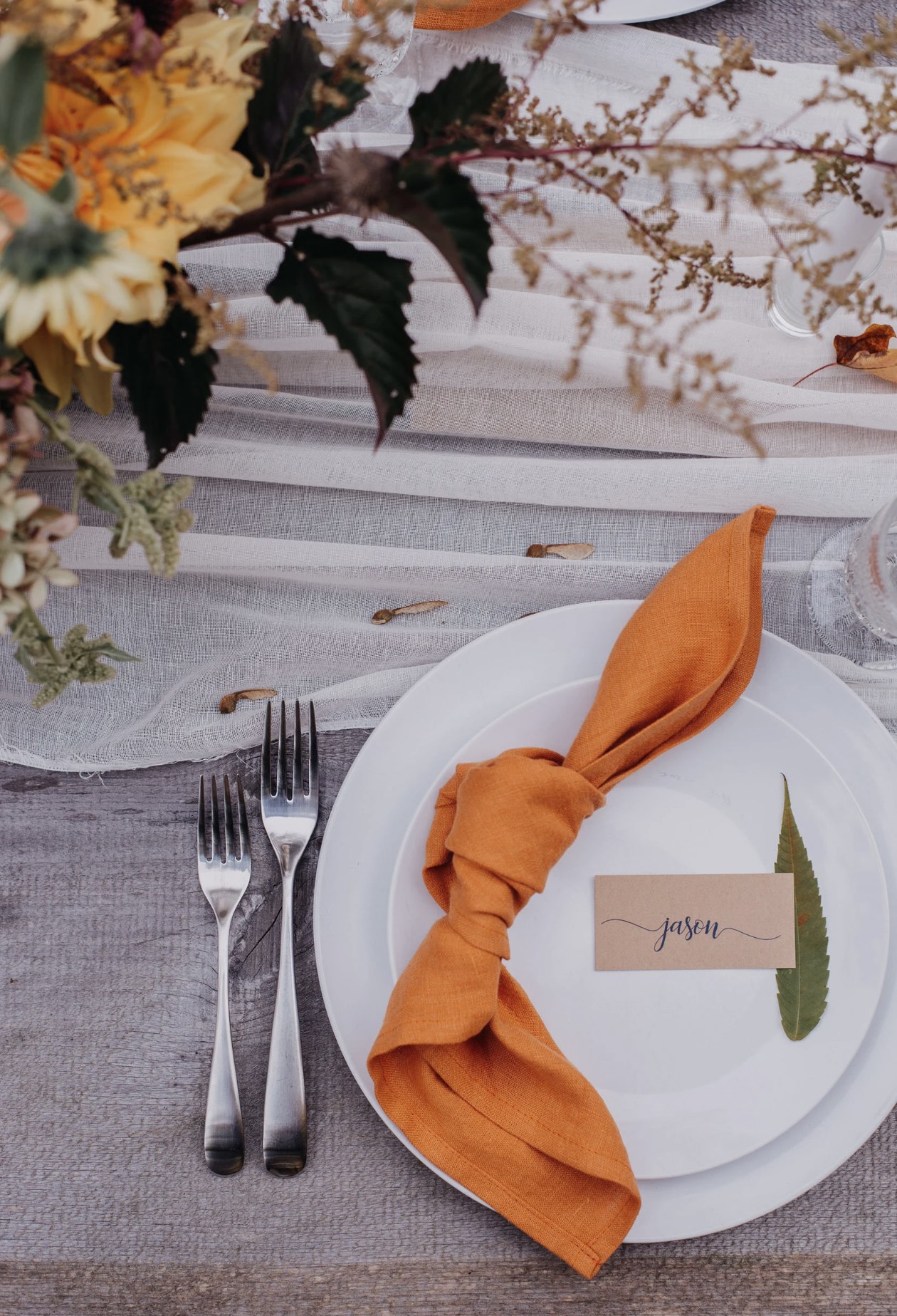 8.) Recycled Glassware
Handmade recycled glassware is all the rage right now. Incorporating recycled wine glasses and goblets like my personal favorites from West Elm, bring a rustic and substantial look to any table setting. Sustainable, modern, and incredibly durable. What's not to love?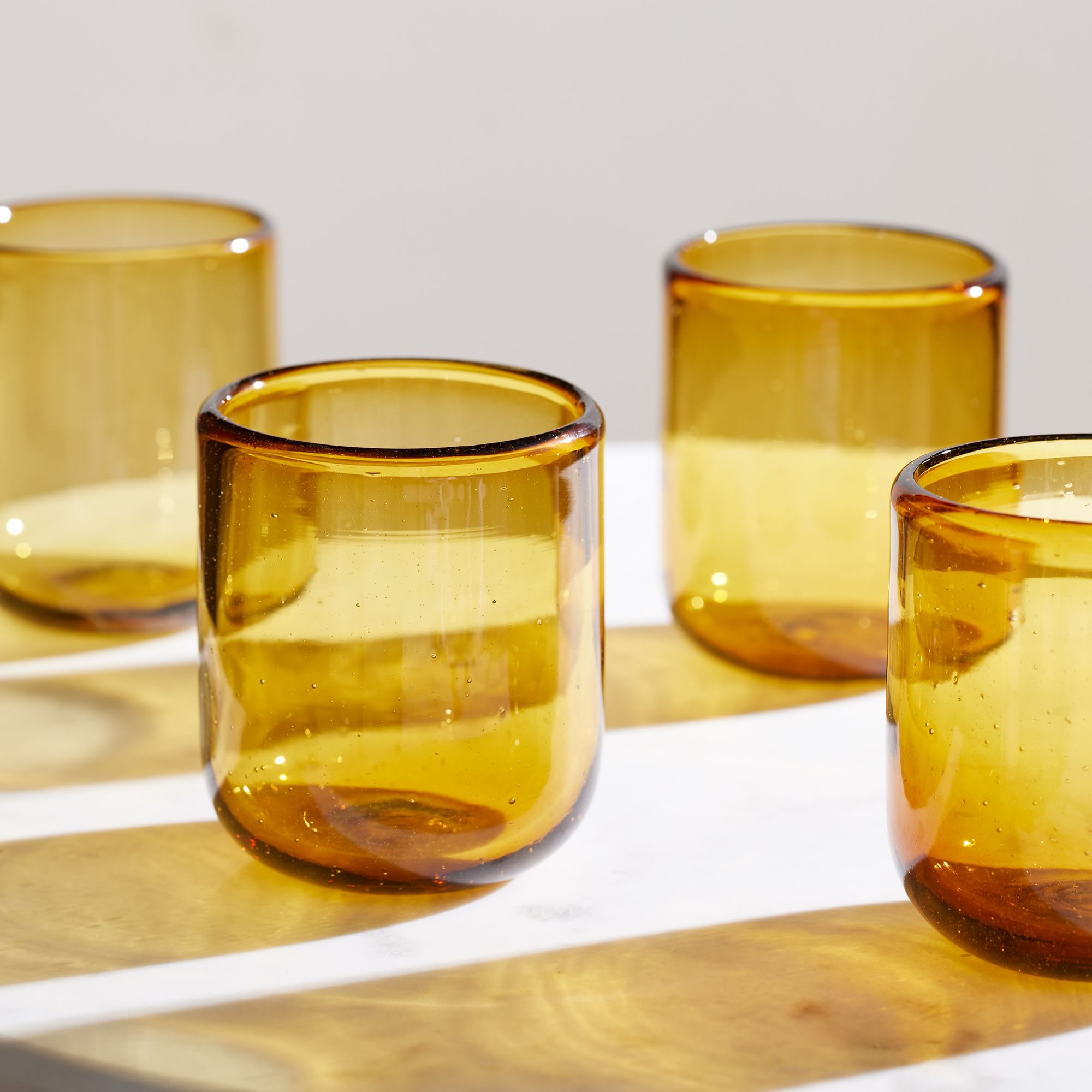 9.) Woven Placemats
If we're discussing design trends for 2022, "Woven EVERYTHING" is a more appropriate term. Personally, I'm a fan. In moderation… These June Round Woven Placemats from CB2, for instance, could be used to create a textural, earthy backdrop to any neutral table setting.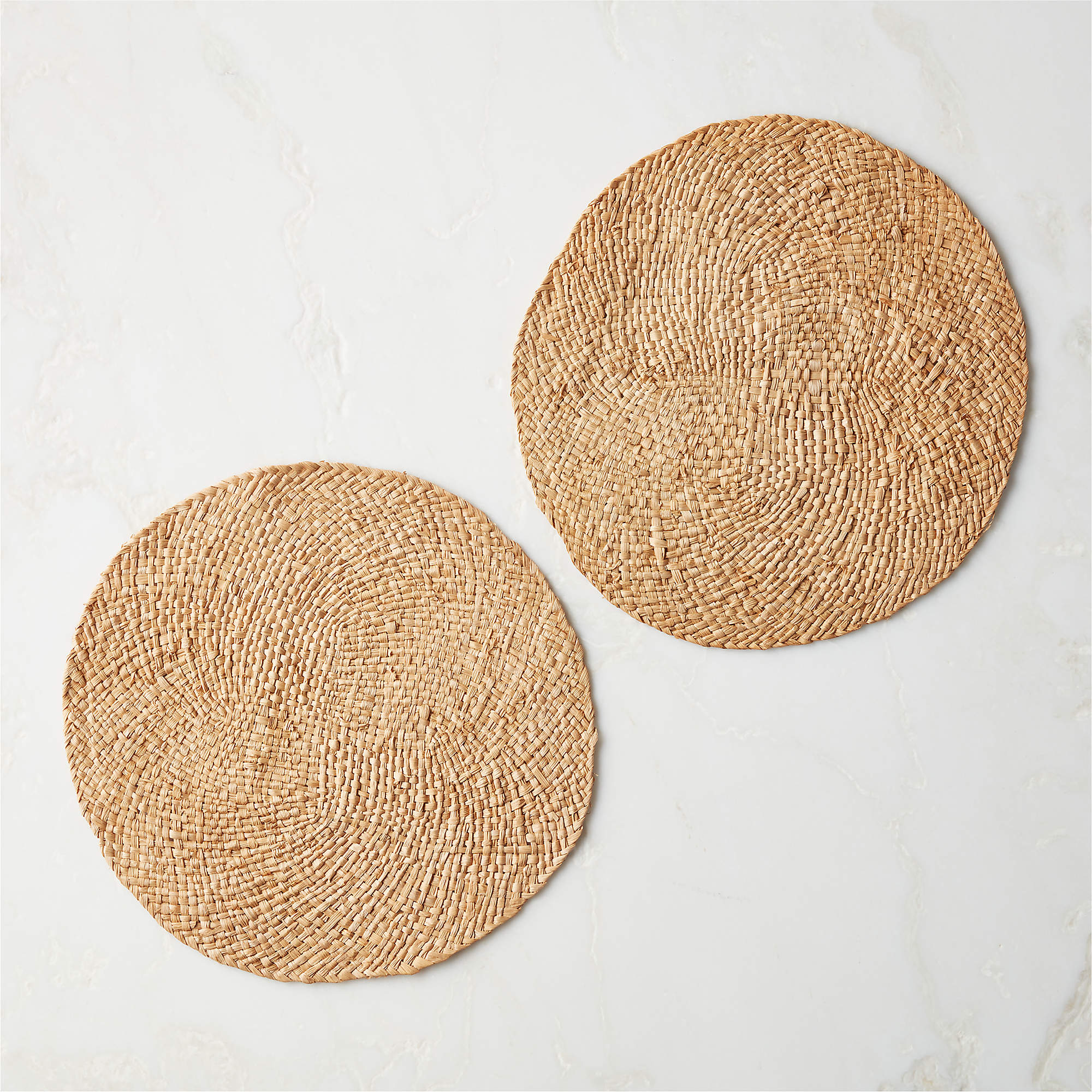 10.) MarbleAccents
Though marble has never really "gone out of style", different variations and hues have come and gone. And now, come back again. Terracotta-hued marble is officially back again and I'm here for it (unlike pink-toned marble)!
Incorporating marble into your decor is a breeze; Serving platters, coasters, flatware with marble handles, and candle holders. The options are endless. Like everything else though, less is more. Select one design element and leave it at. For my table setting this year, I purchased these Rosa Marble Serve Platters from Crate and Barrel. I absolutely love how elegantly modern and distinguished these are.