7 Quick & Easy Recipes for Busy Professionals
Posted by Chyles Capuz on Tuesday, September 12, 2023 at 11:00 AM
By Chyles Capuz / September 12, 2023
Comment
7 Quick & Easy Recipes for Busy Professionals
For all you hardworking professionals out there, here's a delicious lifeline for your hectic week – 7 lightning-fast, scrumptious, and health-packed recipes to keep you fueled up and flying high! 🚀
---
Mondays on the Move with Avocado Bacon Spinach Salad
Ingredients:
For the salad
Bacon - for that savory and delicious crunch
Tomatoes - use grape, cherry, or any variety of little tomatoes that's ripe and fresh at the grocery store or farmers' market to give a sweet quality
Spinach - it's a healthy and hearty leafy green
Avocados - the creamy star of our salad. To find a ripe avocado, make sure that it's fairly dark in color, just soft to the touch, and flick off the little nub to reveal green (not brown).
Mozzarella - we're using the mini kind that's also known as bocconcini for cheesy goodness
Red onion - this is the ideal variety for salads since it's milder
For the dressing
Yellow mustard - this is a typical American variety that's quite mild
Honey - for a touch of sweetness and that signature honey mustard taste
Lemon juice - always use fresh lemon juice. It adds a little acidity for overall balance.
Olive oil - for the base of the dressing
Garlic powder - it adds an irresistible savory dimension
Parsley - a burst of freshness
Instructions:
1. Cut the bacon into small pieces (I use kitchen shears to make this easy) and add it to a skillet over medium-high heat. Fry until crispy (about 10 minutes). Transfer cooked bacon to a paper towel lined plate.
2. Meanwhile, add the dressing ingredients to a small bowl and whisk until combined
3. Prep your other salad ingredients and add them to a large salad bowl. Add the bacon in once it's cooled down a bit.
4. Toss salad with dressing, season with salt & pepper as needed, and serve immediately.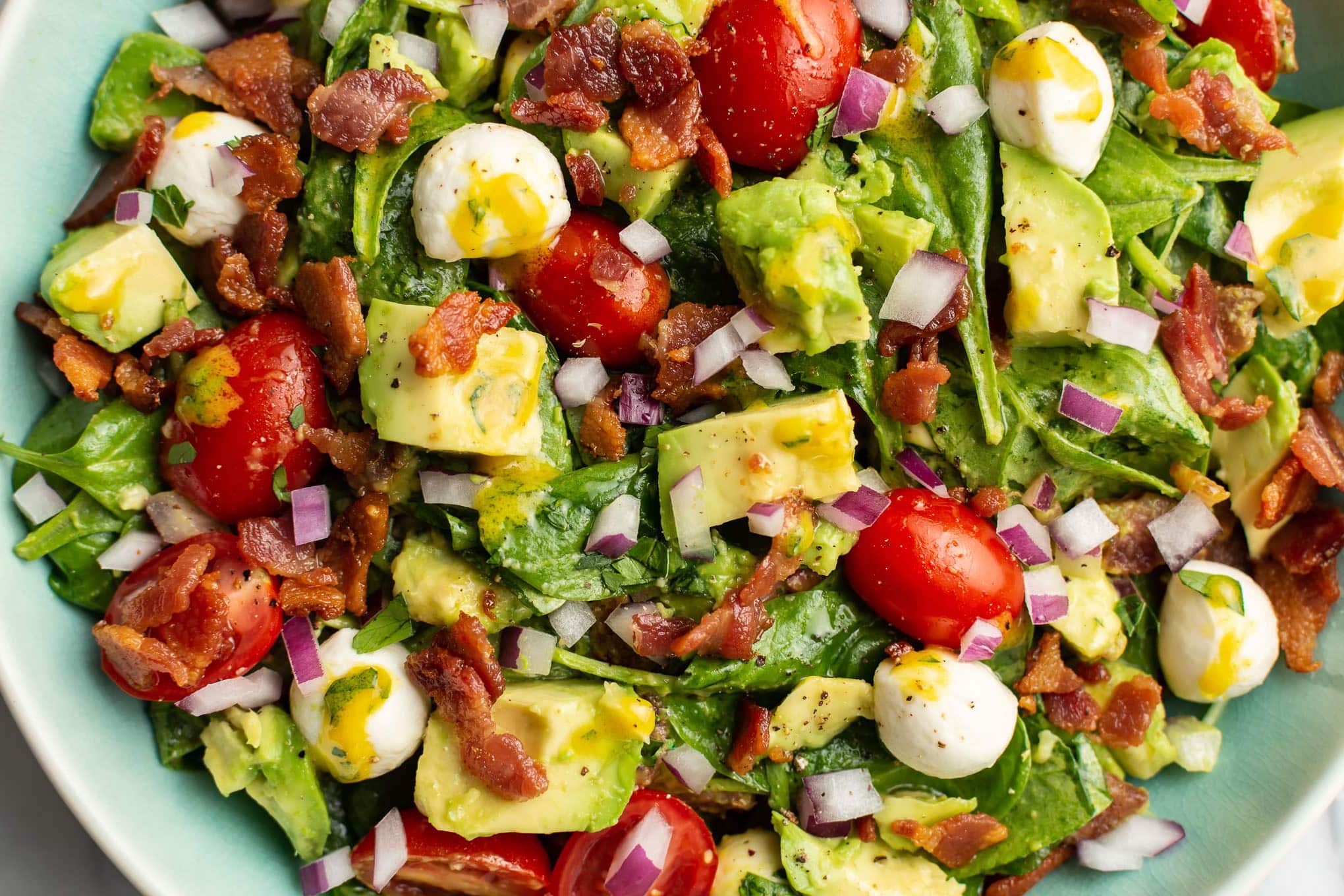 ---
Tasty Tuesdays: Seared Scallops
Ingredients:
1 Pound sea scallops
2 Tablespoons olive oil
2 Tablespoons butter
Salt & Pepper
Fresh lemon juice
Chopped fresh parsley

Instructions:
Pat your scallops dry with paper towel. They should be very dry to get the best sear you can.
Add the olive oil to a large skillet (preferably cast iron). It's important the scallops aren't crowded so they sear properly. You may need to do two batches. Over medium-high to high heat, let the pan get

screaming

hot. On my gas stove, I use the largest burner, let the skillet heat up for 5 minutes, and the oil is lightly smoking.
Add the scallops to the pan, and do

not

move them around. Season them with salt & pepper as they're cooking. Cook for 2-3 minutes, add the butter to the pan, and then flip them and cook them for another minute or so while basting the butter over top. Scallops are done when they're golden on the outside and the middle is slightly translucent. They're easy to overcook.
Take the skillet off the heat and immediately remove the scallops so they don't continue cooking. Spoon the delicious browned butter mixture over top and squeeze a little lemon juice on. Enjoy immediately with extra salt & pepper if needed and some chopped parsley if desired.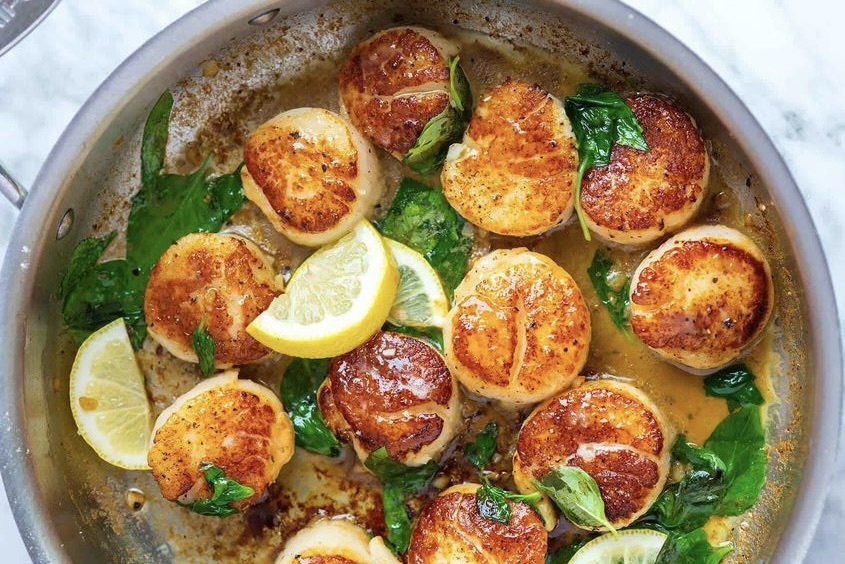 ---
Wednesday Wisdom: Classic Omelet and Greens
Never underestimate the power of Egg omelette.
Ingredients:
3 tbsp. Olive oil, divided
1 yellow onion, finely chopped
8 large eggs
Kosher salt
2 tbsp. unsalted butter
1 oz. Parmesan, finely grated
2 tbsp. fresh lemon juice
3 oz. baby spinach
Instructions:
1. Heat 1 tablespoon oil in large nonstick skillet on medium. Add onion and sauté until tender, about 6 minutes. Transfer to a small bowl.
2. In a large bowl, whisk together eggs, 1 tablespoon water and 1/2 teaspoon salt. Return skillet to medium and add butter. Add eggs and cook, stirring constantly with rubber spatula, until eggs are partially set. Turn heat to low and cover pan tightly, cooking until eggs are just set, 4 to 5 minutes. Top with Parmesan and cooked onion; fold in half.
3. In a medium bowl, whisk together lemon juice and remaining 2 tablespoons olive oil. Toss spinach with vinaigrette and serve with omelet.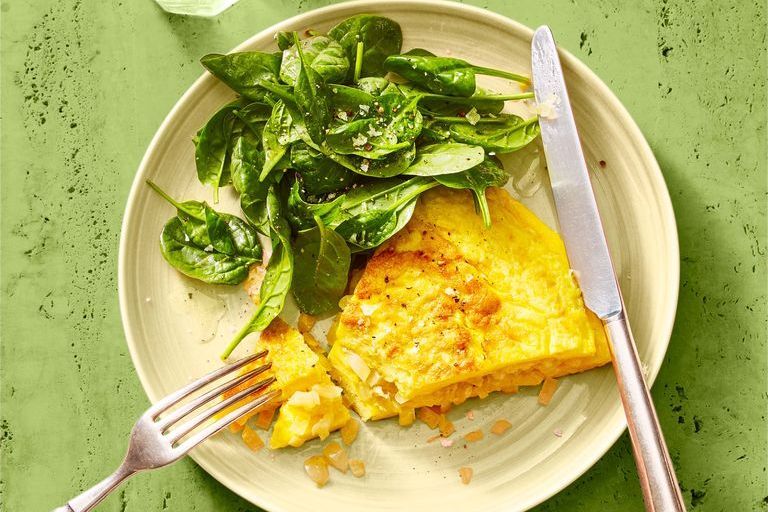 ---
Thrilling Thursdays: Honey Glazed Salmon
In just 30-minute you can create a honey-glazed salmon dish with a delectable sweet and savory sauce that's hard to resist. This recipe is straightforward, using common ingredients, and is guaranteed to leave a lasting impression.
Ingredients:
1 pound fresh salmon
Salt & Pepper
1 tablespoon olive oil
2 tablespoons butter
Fresh lemon juice

Sauce:
1/4 cup low-sodium soy sauce
1/4 cup honey
1/2 tablespoon cornstarch
1/4 teaspoon garlic powder
Instructions:
1. Take the salmon out of the fridge 15-20 minutes prior to starting the recipe if possible. Cut the salmon into 4 equal pieces and pat it dry with paper towel. Season with salt & pepper.
2. Add the olive oil and 1 tablespoon of the butter to a skillet over medium-high heat. Let the pan heat up for a few minutes.
3. Meanwhile, add the sauce ingredients to a medium bowl and whisk it together. Set aside.
4. Cook the salmon (skin-side down) for 5 minutes, then reduce the heat to medium and flip the salmon over and cook for another 2-3 minutes (should be almost cooked through).
5. Add the remaining 1 tablespoon of butter to the skillet and let it melt, then pour in the sauce (just pour it in between the salmon pieces). Let it bubble/thicken for 30 seconds or so, and then take the pan off the heat (the pan will still be hot and the sauce will continue to thicken, but this avoids burning it). Flip the salmon over & spoon the sauce over it.
6. Squeeze some lemon juice over the salmon (I just use one wedge of lemon) and then serve immediately. The salmon skin goes nice and crispy and is delicious when you eat it right away, but feel free to peel it off it you prefer.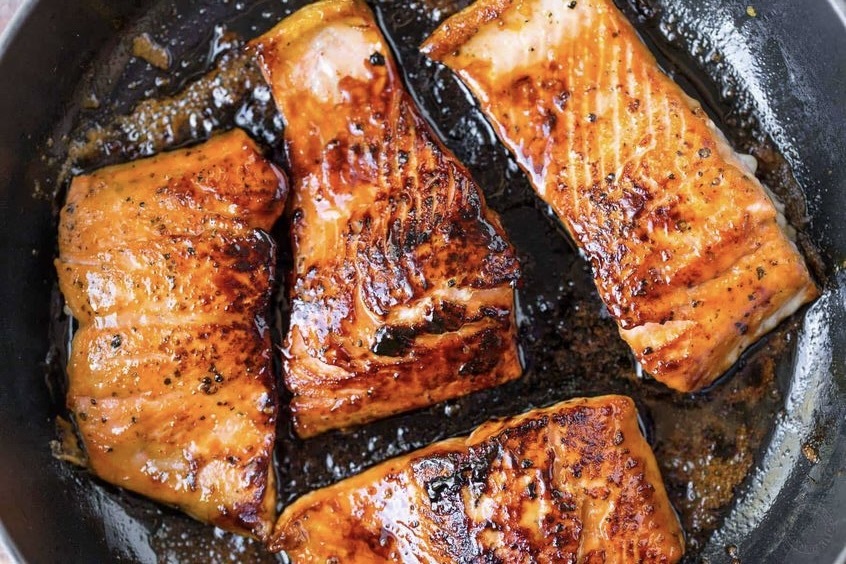 ---
Fry-Yay Fridays: Beef Ramen Noodles (Stir-fry)
You're going to adore the tender ground beef paired with an irresistible sweet and savory peanut sauce. Plus, it's ready in just half an hour!
Ingredients:
1 Pound extra lean ground beef
1/2 red bell pepper chopped
3 heaping tablespoons creamy peanut butter
3 tablespoons hoisin sauce
1/2 tablespoon sriracha sauce
1 tablespoon grated fresh ginger
2 cloves garlic minced
3 packages ramen noodles (seasoning packets discarded)
Salt & Pepper to taste
Chopped scallions (optional)
Instructions:
1. Add the beef to a skillet over medium-high heat and cook, stirring occasionally, until browned (about 8 minutes). If there's a lot of excess fat, spoon most of it out.
2. Meanwhile, boil a pot of water for the ramen noodles.
3. Take the skillet off the heat and stir in the sauce ingredients (peanut butter, hoisin sauce, sriracha sauce, soy sauce, ginger, and garlic).
4. Return the skillet to the heat and add in the red pepper (you will probably need to turn the heat down a bit). Continue cooking for a few more minutes, stirring often, until the pepper is tender-crisp.
5. The noodles only take about 3 minutes to cook, so I recommend adding the noodles to the boiling water just as you add the red pepper into the skillet.
6. Once the noodles are done, add 4 tablespoons (or so) of the cooking water into the skillet prior to draining them. Drain the noodles and add them to the skillet.
7. Toss well and season with extra salt & pepper if needed. Top with scallions if desired. Serve immediately.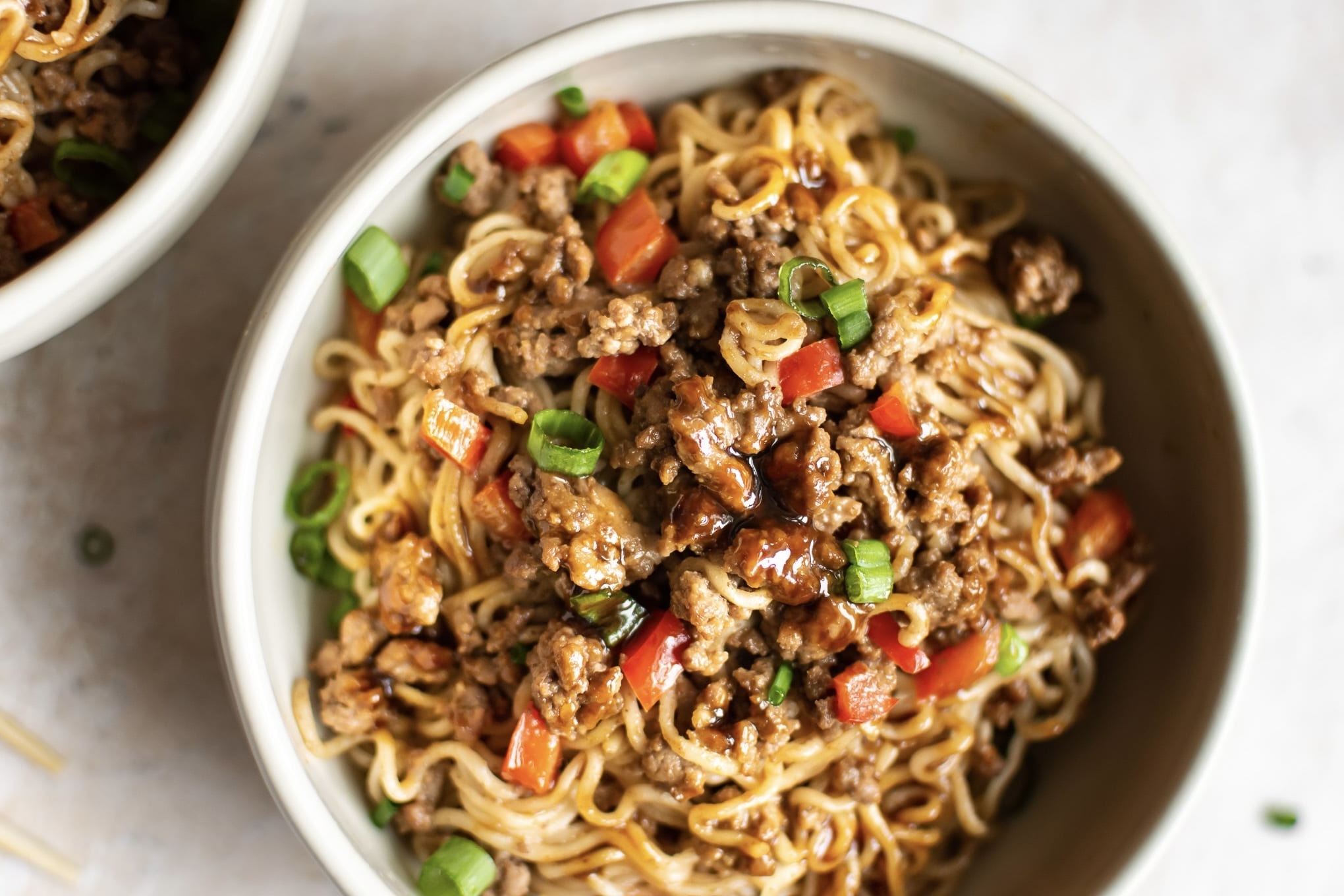 ---
Savory Saturdays: Creamy Balsamic Pork Tenderloin
Go for a one-pot wonder recipe that's ready in 25 minutes! Tender pork is coated in an irresistible balsamic portobello mushroom sauce.
Ingredients:
1 pound pork tenderloin
Salt & Pepper
1/4 teaspoon garlic powder
Flour
2 tablespoon butter
1 tablespoon olive oil
12 ounces portobello mushrooms
1/2 cup chicken broth
2 tablespoons balsamic vinegar
1/4 teaspoon italian seasoning
1 cup heavy/whipping cream
Instructions:
1. Cut the pork into 1" medallions. Sprinkle them with salt & pepper and the garlic powder on both sides and coat each piece in flour.
2. Add 1 tablespoon of the butter and the olive oil to a skillet over medium-high heat. Add the pork to the skillet once it's hot and cook for 3-4 minutes/side, then transfer to a plate.
3. Add the remaining tablespoon of butter and the mushrooms to the pan. Sauté for about 5 minutes, stirring often.
4. Add the chicken broth, balsamic vinegar, and Italian seasoning to the pan. Let it bubble for 2 minutes.
5. Add in the cream and return the pork to the skillet. Reduce heat to medium and let the sauce simmer for another 5 minutes or until it thickens up a bit and the pork is fully cooked. Season with extra salt & pepper if needed.
---
Sweet Sundays: Texas Millionaires
Texas Millionaires Dessert: A Texan Sweet Symphony of Caramel, Pecans, and Chocolate Extravaganza! It's so rich, it practically owns its own ranch of flavor. Saddle up for a sweet adventure! 🤠🍫💰
Ingredients:
1 package (14 ounces) caramels
3 tablespoons water
1-1/2 cups chopped pecans
1 cup rice krispies
3 cups milk chocolate chips
1-1/2 teaspoons shortening
Instructions:
1. Line 2 baking sheets with waxed paper; grease the paper and set aside. In a large heavy saucepan, combine the caramels and water; cook and stir over low heat until smooth. Stir in pecans and cereal until coated. Drop by teaspoonfuls onto prepared pans. Refrigerate for 10 minutes or until firm.
2. Meanwhile, in a microwave, melt chocolate chips and shortening; stir until smooth. Dip candy into chocolate, coating all sides; allow excess to drip off. Place on prepared pans. Refrigerate until set. Store in an airtight container.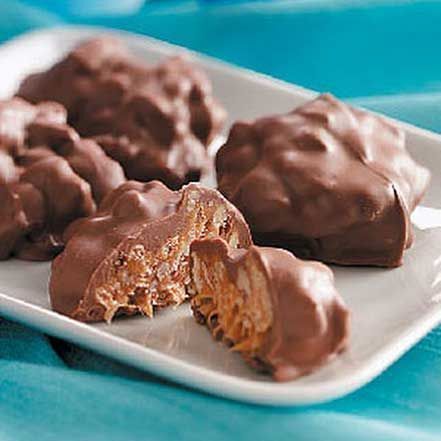 ---
Sources:
Taste of Home. Retrieved from https://www.tasteofhome.com
Salt and Lavender. Retrieved from https://www.saltandlavender.com
Good Housekeeping. Retrieved from https://www.goodhousekeeping.com